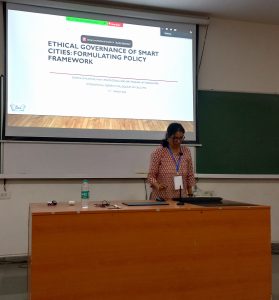 Dates: 31/03/2023 – 01/04/2023
Prof. Bidisha Chaudhuri was invited by IIM Calcutta to present her work as part of the International Research Colloquium on 'Reimagining the Digital: Business and Society' that was held under the aegis of DECISION, IIM Calcutta.
The event saw scholars from across disciplines who presented their work on technology governance, health information systems, platforms in businesses, smart cities, to name a few. Prof. Bidisha Chaudhuri presented her ongoing research with collaborators Prof. Amit Prakash and postdoc scholar Vinay Reddy – Ethical governance of smart cities in the Global South: A case of Solid Waste Management in Karnataka.