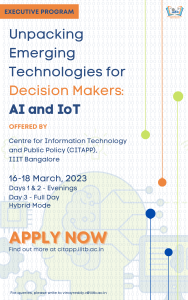 CITAPP is offering a three-day executive program on unpacking emerging technologies with a focus on AI and IoT. The course shall take the participants through
the key elements in each of these technologies from a theoretical viewpoint and the way they typically come together in the practical (or popular) AI and IoT systems
ethical concerns posed by AI and IoT systems and possible mitigation strategies
possible scope for decision makers to plan or strategize AI and IoT systems to better suit their respective socio-technical contexts.
Please find the detailed schedule here.
Program Dates: 16-18 March, 2023
Who can apply: Organisational decision makers, faculty, researchers, system designers, and any other interested individuals.
Please fill this form to apply.
Application Deadline: 4 March, 2023 10th March, 2023. Shortlisted applicants will receive a registration and payment link
For more on this, click here.