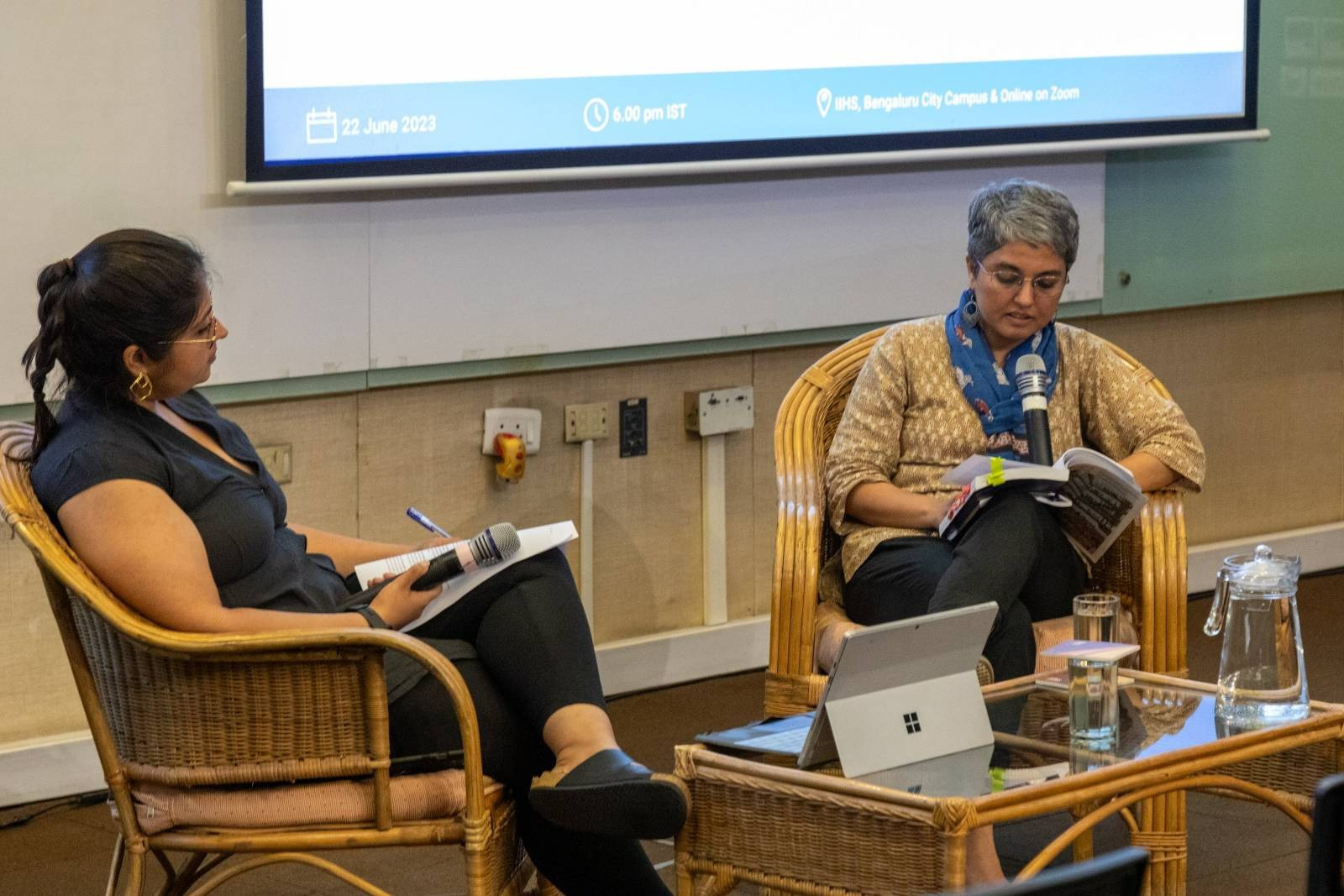 Image Courtesy: IIHS
Date: 22 June, 2023
Janaki Srinivasan (CITAPP Convenor and Faculty) was in conversation about her recently published book 'The Political Lives of Information: Information and the Production of Development in India', with Aditi Surie, Senior Consultant, IIHS Academics and Research, at Publics@IIHS.
About the Book
We live in a world that sees information as empowering and democratising. But how does information work in practice and who does it work for? The Political Lives of Information: Information and the Production of Development in India examines the history of the idea of "information" and its political implications for poverty alleviation. It examines three cases in India—the circulation of price information on mobile phones in a fish market in Kerala, government information in computer kiosks operated by a nonprofit in Puducherry, and a political campaign demanding a right to information in Rajasthan—to explore their divergent uses of information to support goals of social change.
Drawing on archival and ethnographic research on the cases between 2009 and 2016, the book asks why casting information as a tool of development and a solution to poverty appealed to actors across the political spectrum. It leverages its cases to challenge claims that treat information as objective and factual, or as naturally empowering for everyone. The more faith we place in what information can do, the book cautions, the less attention we pay to its political lives and to the role of specific social structures, individual agency, and material form in the defining, production, and use of that information. The book attempts to correct this by using the concept of an "information order"  to refocus attention on how caste, class, and gender shaped who got to define information and benefit from it in the cases it examines.
About the Speakers
Janaki Srinivasan
Janaki Srinivasan is Associate Professor at the International Institute of Information Technology Bangalore (IIITB), and the convenor of the Institute's Centre for Information Technology and Public Policy (CITAPP). Besides the politics of information technology-based development, her current research examines various aspects of digital labour, including algorithmic control and fairness in gig work and automation. You can learn more about her work here.
Aditi Surie
Aditi Surie researches, teaches and does advisory work on the social and economic impact of technology in India and the Global South. As a sociologist, Aditi uses ethnographic and mixed methods to study technology companies, platforms and marketplaces, and livelihood outcomes for gig and platform workers. Her work aims to refocus academic and policy discourse on technology to the Global South.