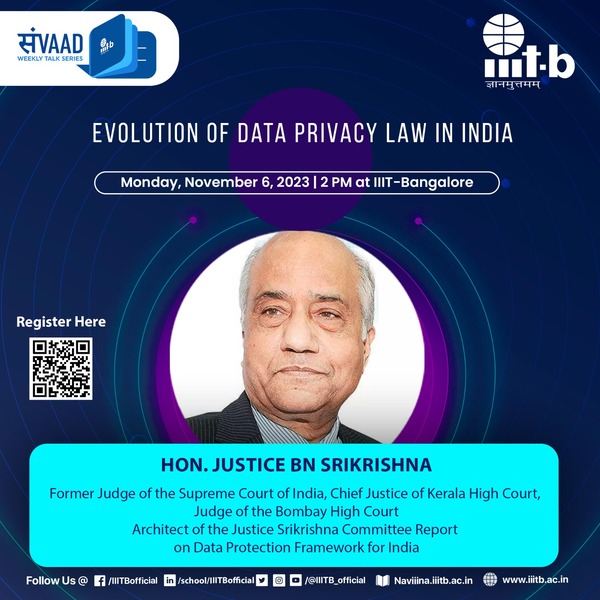 Date: 06/11/2023
Outline of the talk:
Concept of privacy in ancient India – Recognition of privacy as a right by Indian Courts – Conflicting decisions as to the availability of such right – Establishment of UIDAI and development of Aadhar Card as a unique identity card – Challenge to unique identity number/account as invasion to right of privacy – Judgment of the Supreme Court in Puttuswamy's case upholding of right of privacy as a fundamental right – Setting up of the Committee to formulate the principles of law with regard to right of privacy – The Report of the Committee and the Draft Bill submitted by the Committee in 2018 – The Report in 2018 envisaged data privacy, data principles, protection of data as a fundamental right, obligations of both Data Principle and Data Fiduciary – Data protection authority – Violation of Data Protection Act and privacy – Impact of PDP Act on RTI and other laws – Draft Bill was sent to JPC for consideration – JPC suggested 89 amendments and after three years the Bill itself was withdrawn – Bill of 2022 formulated and placed in Parliament – The DPDP Act of 2023– Comments on the PDP Act, 2023.
About the speaker:
Hon. Justice B.N. Srikrishna served as a judge of the Supreme Court of India from 2002 till 2006. He was the Chief Justice of the Kerala High Court from 2001-2002. In the course of his term as a judge of the Bombay High Court from 1990 till 2001, he was appointed as a one-man commission to inquire into the Mumbai riots and incidents of 1992-1993. In his post-retirement career, Justice Srikrishna has chaired several influential commissions, including the Sixth Pay Commission and the Committee for Consultations on the Situation in Andhra Pradesh. In 2017, he was appointed as the chair of the committee of experts by the Ministry of Electronics and Information Technology to deliberate on a data protection framework for India, identify key issues pertaining to privacy, and to draft a data protection law. The Justice Srikrishna Committee submitted its report in 2018 which formed the basis of the Digital Personal Data Protection Act of 2023.