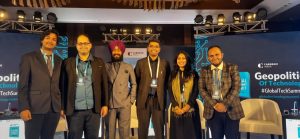 Dates: 30/11/22 – 02/12/2022

The Global Tech Summit (GTS), organised by Carnegie India and the Ministry of External Affairs, Government of India, was held on the eve of India assuming the G20 presidency. It involved talks on topics ranging from content for OTTs to the digital infrastructure India has evolved, including Aadhaar and UPI to a dissection of the new draft of the Personal Data Protection Bill to the future of quantum computing and lattice cryptography. IIIT-B was represented by students as Carnegie Young Ambassadors.
The speakers introduced this year's GTS was designed to examine the geopolitical boundaries India plans to transcend using technology. This edition would look at the ideas of inclusion, challenges, opportunities, and economic growth that technology was bringing forth through innovation and collaboration.