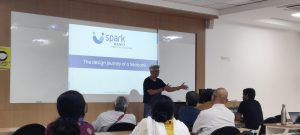 Date: 05/04/2023
About the Talk:
Dvara group's vision is to offer financial services to every individual and entity. With that vision, an Urban focused Dvara Money was incubated. Four years hence, Spark Money, a product of Dvara Money, has become a Neobank for the urban Bharat offering financial services like an account, micro-savings, micro-insurance, and loans all curated for Urban Bharat. Pramod Ghorpade will present the journey involved in designing NeoBank.
Speaker Bio:
Pramod Ghorpade has over 20+ years of experience across various senior roles at Cisco, NetApp, and Avaya. He has cofounded and mentored multiple start-ups in Fintech, Edtech & Healthtech. He is currently leading the effort in Dvara Money Pvt Ltd.
The talk was followed by a discussion and Q&A
CITAPP's Monthly Seminar Series is an attempt to create a forum where researchers across IIITB domains can meet and discuss cutting edge research on the chosen theme of the semester. The Series hopes to explore a technology or topic for its ramifications in different realms of social activity. In particular, we are interested in understanding the specific kinds of complexity that these domains present for technological innovation and design.