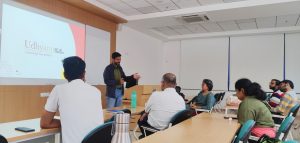 Date: 18/01/2023
About the Talk and Speaker Bio:
Mekin Maheshwari, founder and CEO of Udhyam Learning Foundation, is an engineer by education and an experienced entrepreneur. He started his career at Yahoo! and has held leadership roles at companies such as Flipkart, where he served as Chief People Officer. Additionally, he is a co-founder of the Global Alliance for Mass Entrepreneurship and a member of the Social Change at ACT Grants.
Through Udhyam, Mekin aims to empower individuals by focusing on the importance of mindset in achieving success in the public education system. The organization delves into the challenges faced by educators and administrators, and offers practical solutions for addressing these issues. Additionally, the organization explores open problems in the field, such as the need for more effective approaches to teacher training and student engagement. Overall, Udhyam provides valuable insights into the complexities of the public education system and the role of mindset in overcoming obstacles. Mekin's passion for helping others realize their potential and succeed in life is deeply ingrained in the organization's culture and mission.
Mekin's talk was followed by a discussion and Q&A
CITAPP's Monthly Seminar Series is an attempt to create a forum where researchers across IIITB domains can meet and discuss cutting edge research on the chosen theme of the semester. The Series hopes to explore a technology or topic for its ramifications in different realms of social activity. In particular, we are interested in understanding the specific kinds of complexity that these domains present for technological innovation and design.